September 1, 2020
Posted by:

Simangolwa Muyunda

Category:

News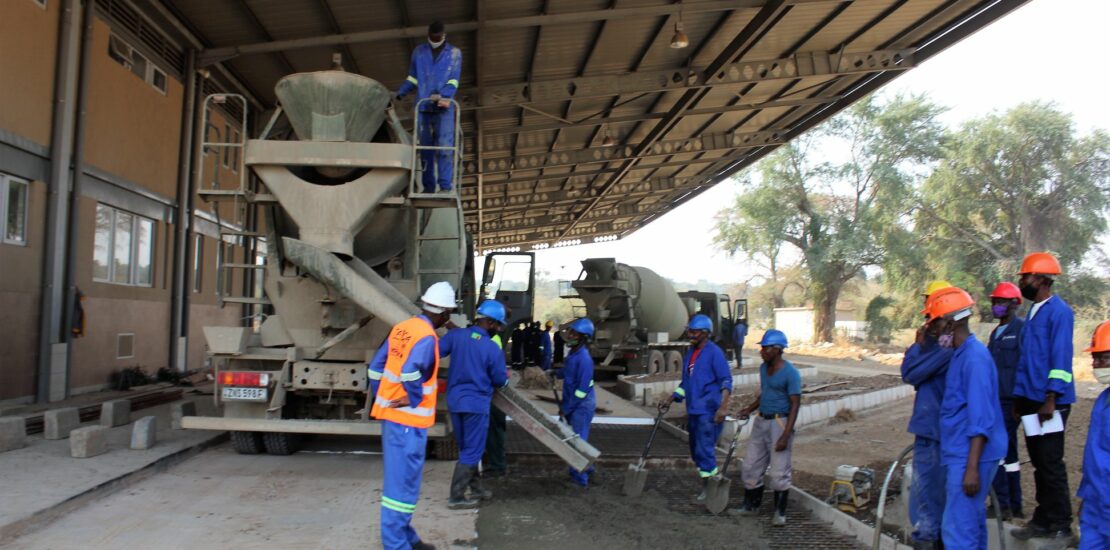 Construction of an Ultra-modern market and an intercity bus terminus in Livingstone have reached an advanced stage with about 35% of works remaining. The buildings are earmarked to open to the public before the end of 2020.
Both facilities will cost the National Pensions Scheme Authority over ZMW 33 million.
National Pension Scheme Authority (NAPSA) Director General, Mr. Yollard Kachinda during an inspection tour of the two facilities expressed his happiness with the progress made so far on the construction of the facilities.
Mr. Kachinda said NAPSA was impressed with the work done at the two facilities adding that there had been a very huge progress made on the facilities. He was accompanied by Zambia National Service (ZNS) Commandant Lieutenant General Nathan Mulenga who are the contractors of the projects and the Livingstone District Commissioner, Ms Pascalina Musokotwane.
"As the financier of the two projects we are 100 percent committed to releasing the remaining funds needed to complete the projects." Mr. Kachinda said.
The DG indicated that NAPSA's Investment in the Livingstone ultra-modern Market and bus terminus has presented another opportunity for the Authority to further galvanise its strategy of bringing onboard members of the informal sector, particularly marketeers, traders, bus and taxi drivers.
"Engagements with the Livingstone City Council are re-ignited and enhanced our partnership even before the commencement of operations of the ultra-modern market and bus terminus," he added.
Speaking earlier, Zambia National Service (ZNS) commandant Nathan Mulenga reaffirmed his commitment in ensuring that the ultra-modern market and intercity bus terminus in Livingstone are completed before the end of 2020.
District Commissioner for Livingstone, Ms Musokotwane paid tribute to NAPSA who are the sole financiers of the project, and the executor ZNS for the projects which she said will change the skyline of the tourist town.
She said the two projects were of great importance to both Government and the residents of Livingstone as they will create more business opportunities for the residents of the city.
"We are happy that these buildings will add colour to the city which will befit a true tourist capital of the country," she said.