June 8, 2021
Posted by:

Collins Muyenga

Categories:

General, News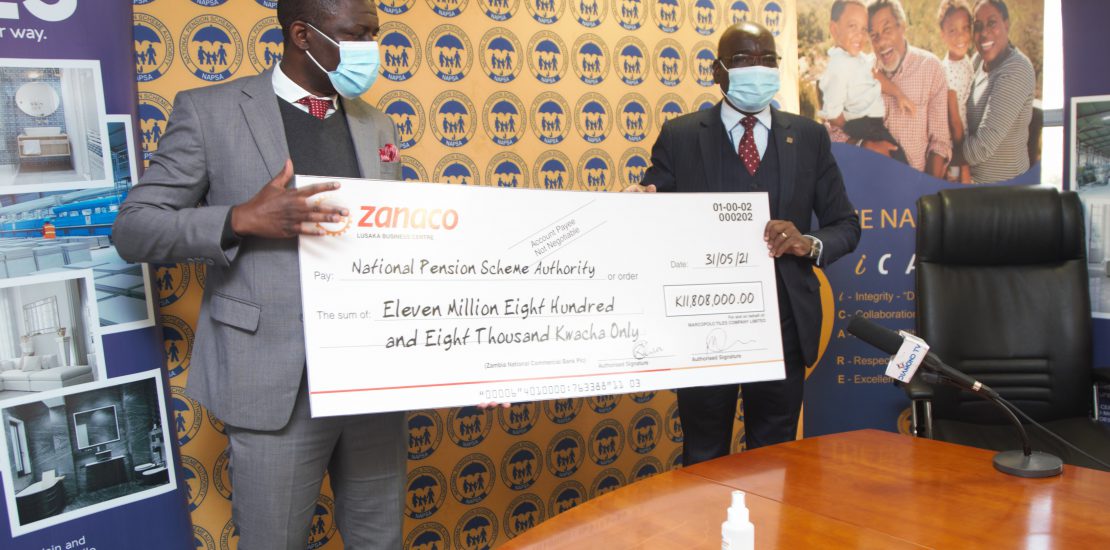 Marcopolo Tiles Company Limited has declared a dividend of k11.8 million (USD524,000) to the National Pension Scheme Authority (NAPSA) barely a year since the latter bought shares in the tile manufacturing company. The National Pension Scheme Authority holds 16.4 percent shares in Marcopolo Tile.
speaking at the ceremonial cheque handover this morning, Director General, NAPSA, Mr Yollard Kachinda said the dividend was testimony that the Authority made a very prudent business decision to invest in Marcopolo Tiles Company Limited.
"The company has demonstrated positive growth in the recent past ending with a net profit of K150 million for the year 2020 resulting into this dividend payment. This therefore demonstrates the viability of this investment.
"We are excited that we are part of a company that is contributing positively to job creation and economic growth. I am aware that the company has so far employed over 700 workers and has continued to bring into the country the much-needed forex through the export of its products.
"With the demonstrated growth, we are certain that the company is headed for greater performance which will ultimately benefit our members who are the actual shareholders," said Mr Kachinda.
Speaking earlier, Marcopolo Tiles Company Limited Acting Chief Executive Officer, Mr Roy Mwamba said the company was headed for greater growth with the introduction of another product line that will see the company manufacturing bathtubs, sinks and toilet pans among other products.
Mr Mwamba said the company's strategy is anchored on job and wealth creation and retention and contributing to national economic growth.
"Ours is to take care of our stakeholders and you being our stakeholder number one, we are taking care of your investment and the returns are evident. Today the harvest is ready and we said let us come and present it to the investors.
"World over many companies have folded due to turbulent economy, but we have managed to record a profit. We could not have achieved this without your support. We are grateful and thrilled that you will invest that which we will give to you into the local economy thereby retaining the wealth in the country in line with our strategy," said Mr Mwamba.