November 7, 2017
Posted by:

Simangolwa Muyunda

Categories:

General, News, Public Notices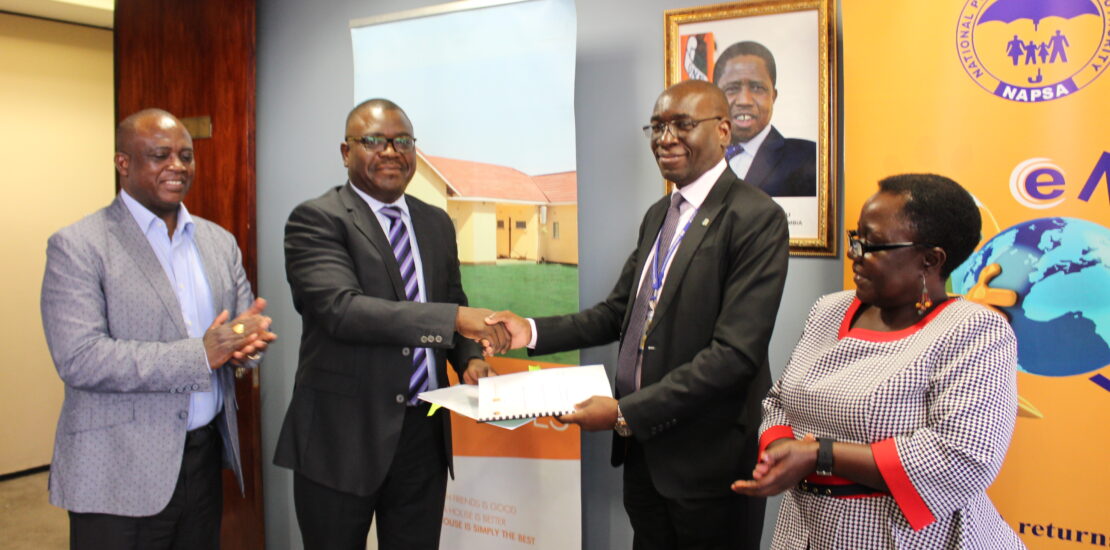 The National Pension Scheme Authority (NAPSA) has signed an agreement with the Zambia National Building Society (ZNBS) for the sale of NAPSA houses at Northgate Housing Complex in Lusaka. There are 311 three-bedroomed self-contained houses that are selling at K575,000 per unit through a three-month payment plan or a mortgage from ZNBS.
Below is the speech by Ms Marian Munyinda, Chairperson, NAPSA Board of Trustees for the signing ceremony .
THE CHAIRPERSON, ZAMBIA NATIONAL BUILDING SOCIETY BOARD OF DIRECTORS, DR DAVID NAMA
 THE MANAGING DIRECTOR, ZAMBIA NATIONAL BUILDING SOCIETY, MR JOSEPH CHIKOLWA
 THE DIRECTOR GENERAL, NATIONAL PENSION SCHEME AUTHORITY, MR YOLLARD KACHINDA
 ALL MANAGEMENT OFFICIALS FROM ZNBS AND NAPSA
INVITED GUESTS
 MEMBERS OF THE PRESS
LADIES AND GENTLEMEN
IT IS MY GREAT PLEASURE AND HONOUR TO WELCOME YOU ALL TO THIS SIGNING CEREMONY OF THE AGREEMENT BETWEEN THE NATIONAL PENSION SCHEME AUTHORITY AND THE ZAMBIA NATIONAL BUILDING SOCIETY FOR THE SALE OF NAPSA HOUSING UNITS AT NORTHGATE HOUSING COMPLEX IN LUSAKA.
THE AUTHORITY HAS A TOTAL OF 311 THREE-BEDROOMED SELF-CONTAINED HOUSES THAT ARE ON SALE AT A COST OF K575,000 PER UNIT. ALL THE UNITS ARE SEMI-DETACHED AND OF THE SAME DESIGN AND SIZE. MEMBERS OF THE PUBLIC CAN BUY ANY OF THE UNITS EITHER THROUGH A FLEXIBLE PAYMENT PLAN OF UP TO THREE MONTHS OR A MORTGAGE FACILITY THAT HAS BEEN ARRANGED BY THE TWO PARTIES. THE MORTGAGE WILL BE PROVIDED BY THE ZAMBIA NATIONAL BUILDING SOCIETY AT AN AFFORDABLE INTEREST RATE OF 14 PERCENT PER ANNUM FOR A MAXIMUM OF 30 YEARS. AS FAR AS I KNOW, THIS IS THE MOST COMPETITIVE INTEREST RATE FOR A MORTGAGE ON THE ZAMBIAN MARKET AT THE MOMENT. THIS IS INDEED A HUGE STEP TOWARDS MAKING HOUSING FINANCING AFFORDABLE AND ACCESSIBLE TO MANY ZAMBIANS.
I THEREFORE URGE MEMBERS OF THE PUBLIC TO VISIT NAPSA NORTHGATE COMPLEX AND APPLY FOR A HOUSE OF THEIR CHOICE STARTING TOMORROW, 8 NOVEMBER 2017 UNTIL 15 DECEMBER 2017.
LADIES AND GENTLEMEN, ZAMBIA IS FACING A SERIOUS HOUSING DEFICIT ESTIMATED AT ABOUT 1.5 MILLION HOUSES COUNTRYWIDE. ONE OF THE MAJOR OBSTACLES IN TRYING TO MEET THE DEMAND IS LIMITED ACCESS TO AFFORDABLE MORTGAGE FINANCING BY MAJORITY ZAMBIANS. MOST MORTGAGE FACILITIES IN THE COUNTRY ARE HIGHLY PRICED AND ABOVE THE REACH OF AVERAGE ZAMBIANS. IT IS FOR THIS REASON THAT NAPSA HAS ENTERED INTO THIS AGREEMENT WITH THE ZAMBIA NATIONAL BUILDING SOCIETY TO PROVIDE ACCESS TO HOUSING THROUGH THE PROVISION OF AFFORDABLE FINANCING.
THIS PARTNERSHIP BETWEEN NAPSA AND ZNBS IS THEREFORE EXTREMELY IMPORTANT AS IT ADDRESSES ONE OF THE KEY CHALLENGES HAMPERING ACCESS TO DECENT AND AFFORDABLE HOUSING IN ZAMBIA. AS NAPSA WE ARE VERY DELIGHTED TO BE PIONEERING THIS DEVELOPMENT WHICH WILL SEE MORE ZAMBIANS OWNING HOUSES EVEN AS NAPSA EMBARKS ON LOW-COST HOUSING PROJECTS ACROSS THE COUNTRY.
LADIES AND GENTLEMEN, YOU MAY RECALL THAT IN APRIL 2017, NAPSA ANNOUNCED A MAJOR SHIFT IN ITS APPROACH REGARDING PROVISION OF TERM DEPOSITS TO FINANCIAL INSTITUTIONS. PREVIOUSLY THE AUTHORITY WOULD AUCTION ITS CAPITAL ON THE MARKET TO THE HIGHEST BIDDER AT THE SAME RATE ACROSS THE BOARD, A MOVE THAT TO SOME EXTENT HAD THE POTENTIAL TO EXCLUDE CERTAIN FINANCIAL INSTITUTIONS WITH LOWER CAPACITY FROM ACCESSING CAPITAL.
UNDER THE NEW APPROACH NAPSA IS CONSIDERING FINANCIAL INSTITUTIONS ON A CASE-BY-CASE BASIS. THIS MOVE IS AIMED AT REDUCING THE LENDING RATES SO THAT MORE BANKS COULD ACCESS FUNDING FROM NAPSA AND BE ABLE TO PASS ON THE BENEFIT TO THEIR CUSTOMERS. I AM GLAD TO STATE THAT THIS AGREEMENT BEING SINGED TODAY IS AS A RESULT OF THE STATED INTERVENTION. I AM VERY SURE THAT THE NEW APPROACH WILL GREATLY ASSIST IN THE STABILIZATION OF THE FINANCIAL MARKET AND LOWERING OF INTEREST RATES.
LADIES AND GENTLEMEN, I AM VERY DELIGHTED THAT THIS AGREEMENT WILL ASSIST TO BRING DOWN THE HOUSING DEFICIT AS MORE PEOPLE WILL NOW HAVE ACCESS TO AFFORDABLE FINANCING FOR DECENT HOUSING.
AS I CONCLUDE I WOULD LIKE TO REITERATE THAT WE HAVE RECOGNIZED THE CHALLENGES THAT MANY ZAMBIANS HAVE BEEN EXPERIENCING WITH REGARD TO ACCESSING LONG TERM FINANCING, BE IT FOR BUSINESS OR HOUSING. THEREFORE, IT IS OUR INTENTION AND DESIRE TO FACILITATE FUNDING ARRANGEMENTS FOR LONG TERM FINANCING AND MORTGAGE FACILITIES SUCH AS THIS ONE SO THAT WE CAN CONTRIBUTE EVEN MORE TO SOCIAL ECONOMIC DEVELOPMENT OF THE COUNTRY.
I THANK YOU ALL.