February 13, 2020
Posted by:

Simangolwa Muyunda

Category:

News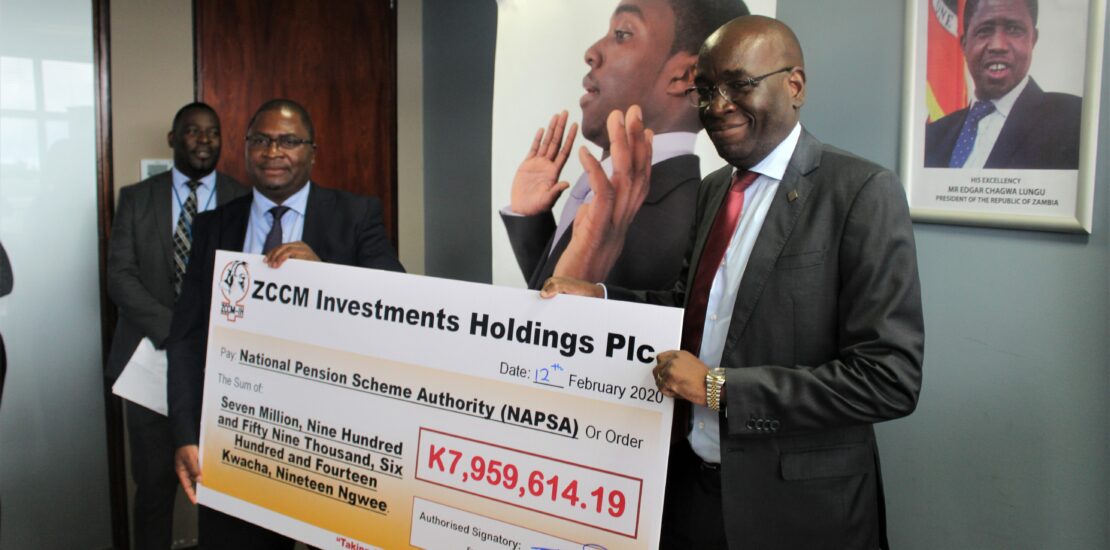 The year 2020 has begun on a positive note for the National Pension Scheme Authority (NAPSA) which yesterday received a dividend cheque worth K7.9 million from the Zambia Consolidated Copper Mines-Investment Holdings (ZCCM-IH), one of its investments on the Lusaka Securities Exchange.
Speaking when he received the cheque at NAPSA Head office, NAPSA Director General Mr. Yollard Kachinda said NAPSA was a key player in Zambia's economy and in the provision of social security.
Mr. Kachinda noted that the Authority had a fiduciary responsibility to safeguard and grow members' funds by engaging in viable investment projects as a business objective to make a return.
Mr. Kachinda further added that NAPSA's primary objective was to provide long term income security to its members and their families.
"You may wish to know that currently the authority has over 16,000 pensioners on its payroll with a total pension payout in 2019 standing at over one billion kwacha.  This is cash flow which is ploughed back to turn the economic wheels of the country," he said.
Mr. Kachinda assured members of the scheme that NAPSA would protect their welfare and continue to work in their best interest by choosing investments that would bring meaningful returns for their benefits.
And presenting the cheque to NAPSA Director General, ZCCM-IH Chief Executive Officer, Mr. Mabvuto Chipata said  ZCCM-IH remained resolute to see to it that the organisation continued to be profitable as devised in its strategic plan.
"Our strategic plan is underpinned by a transformative investment agenda aimed at driving sustainable growth in the company for the benefit of all our stakeholder," said Mr. Chipata.
NAPSA is the second largest shareholder in ZCCM-IH with 15% shares after the government.