December 12, 2016
Posted by:

Simangolwa Muyunda

Categories:

News, Uncategorized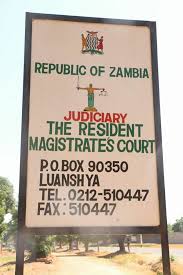 12th December 2016, Lusaka
The Luanshya Magistrate court has sentenced a proprietor of a privately owned school in Luanshya to one-month simple imprisonment after being found guilty of failure to remit National Pension Scheme Authority (NAPSA) monthly contributions for his employees contrary to the National Pension Scheme (NPS) Act No. 40 of 1996. This is a landmark decision to have been reached by the courts in the history of NAPSA, a development that should be a wake up to all would-be offenders.
Mr. Collins Kabanshi of Junior Doctors Academy failed to fulfill his obligation of remitting statutory NAPSA monthly contributions for his five (5) employees for a period of nine (9) months in 2016. The said employer was earlier found guilty of the offense of failure to register his employees with NAPSA and was convicted and fined.
Commenting on the milestone decision by the court, the Director Contributions and Benefits at NAPSA, Mr. Mason Mwiinga said:
"We don't take pleasure in taking anyone to court, later on to have them convicted for not remitting NAPSA contributions. We would like a situation where companies are able to operate without us chasing after them. However, we have an obligation to meet before our members and we will not be able to do that unless we enforce compliance by the companies."
The conviction of Mr. Kabanshi comes as a result of the recently intensified nationwide inspections by NAPSA aimed at enforcing compliance by the companies. In the Copperbelt mop up exercise that took place between July and December 2016, a total of five hundred and eighty-five (585) companies were inspected in Kitwe, Mufulira, Luanshya, Ndola and Chingola where a lot of them were found to be in contravention of the National Pension Scheme (NPS) Act No. 40 of 1996. The erring companies, which ranged from butcheries, restaurants and schools to saloons, retail shops, pharmacies and lodges, affected the fate of over 1,000 employees who had their NAPSA contributions missing.
"The intensive inspections that we recently undertook on the Copperbelt revealed a very sad story of a number of employers either not registering their employees or registering them but not remitting their contributions. Both scenarios are a serious offence which has serious repercussions like in the case of Junior Doctors Academy. So far a number of companies have been fined for abrogating the law and we have a total of 208 prosecutions before the courts of Law," explained Mr. Mwiinga.   "NAPSA is also working round the clock to recover all the missing contributions for the affected employees."
During the inspections which were characterized by resistance from some employers, the Authority used the opportunity to sensitize both the employers and their employees on their obligation regarding compliance with the NAPSA Act.
The Authority has reiterated its resolve to carry out its mandate of collecting NAPSA contributions by enhancing compliance across the country. Therefore, the Authority is currently undertaking routine and random Inspections countrywide.
"I would like to urge employers to comply with the law by ensuring that they correctly register their employees within 30 days of starting business and that they remit their NAPSA contributions on time every month.
"On the other hand, employees should take keen interest to ensure that they are registered with NAPSA and that their contributions that are being deducted from their pay are remitted to NAPSA on time," advised Mr. Mwiinga.
The National Pension Scheme Authority has introduced a number of tools through which members can keep track of their contributions. These include; Customer call Centre reachable on +260 211 395000, eNAPSA (www.napsa.co.zm), NAPSA Mobile App, short code *677# and toll free line 677. These tools are aimed at enhancing compliance.