April 24, 2017
Posted by:

Simangolwa Muyunda

Category:

News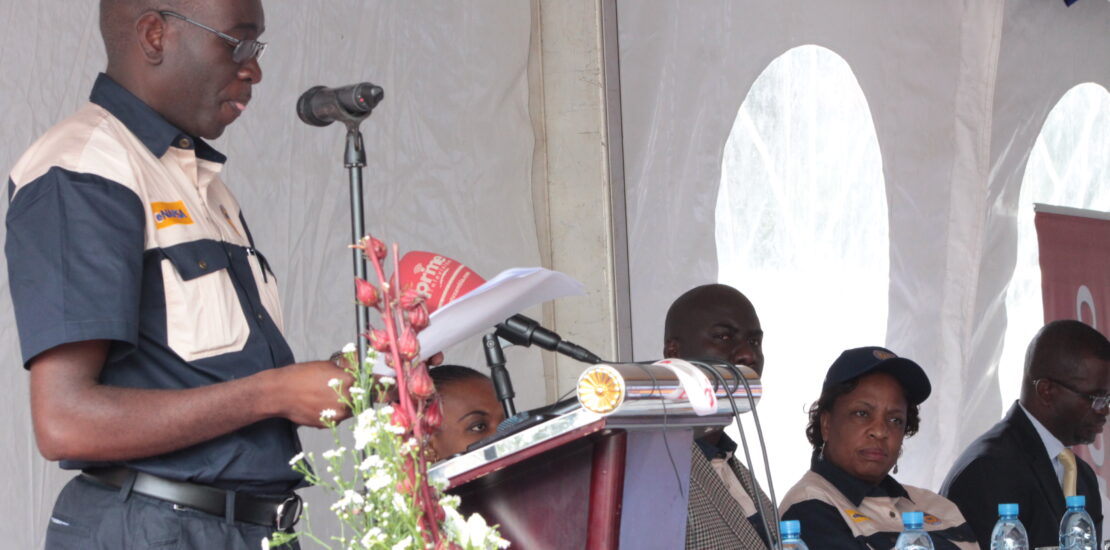 I WELCOME YOU ALL TO THIS MOMENTOUS OCCASION TO MARK THE OFFICIAL LAUNCH OF e-NAPSA, OUR NEW ONLINE PLATFORM FOR SUBMISSION OF RETURNS and THE FLAGGING OFF OF THE EXTENSION OF COVERAGE TO THE INFORMAL SECTOR. THIS IS A WORLDCLASS INNOVATION INSOFAR AS PENSION ADMINISTRATION A CROSS THE WORLD IS CONCERNED.
I WOULD LIKE TO EXTEND A SPECIAL THANK YOU AND WELCOME TO HONOURABLE JOYCE NONDE SIMUKOKO, MP, THE MINISTER OF LABOUR AND SOCIAL SECURITY FOR ACCEPTING OUR INVITATION TO GRACE THIS OCCASION AS GUEST OF HONOUR. HONOURABLE MINISTER, LADIES AND GENTLEMEN, WE ARE GRATEFUL FOR THE SUPPORT YOU HAVE SHOWN BY RESPONDING TO OUR INVITATION TO ATTEND THIS LAUNCH.
GUEST OF HONOUR, DISTINGUISHED GUESTS, LADIES AND GENTLEMEN,
THE LAUNCH OF eNAPSA IS A LANDMARK OCCASION FOR ALL OF US AT NAPSA BECAUSE IT MARKS THE BEGINNING OF A NEW ERA IN THE WAY WE CONDUCT OUR BUSINESS AND INTERACT WITH OUR ESTEEMED CUSTOMERS.
GUEST OF HONOUR,
WE AT NAPSA HAVE NOTED THE EVER CHANGING BUSINESS AND SOCIAL TRENDS IN OUR SOCIETY WITH A LOT OF ACTIVITIES AND BUSINESSES BEING DRIVEN AND ANCHORED BY INFORMATION AND COMMUNICATION TECHNOLOGY (ICT). THE USE OF ICT IN ZAMBIA IS GROWING RAPIDLY ESPECIALLY AMONG THE MIDDLE TO UPPER CLASS CITIZENS.  THIS TREND IS CHANGING THE WAY ORGANISATIONS CONDUCT THEIR BUSINESSES AND IT IS FOR THIS REASON THAT WE EMBARKED ON A ROBUST DIGITALISATION PROGRAMME A FEW YEARS AGO AS WELL.
YOU MAY WISH TO KNOW THAT MOST OF OUR KEY OPERATIONS HAVE NOW BECOME PAPERLESS AS A RESULT OF THE IMPLEMENTATION OF VARIOUS COMPUTER SYSTEMS. THIS IS AIMED AT ENHANCING EFFICIENCY IN OUR SERVICE DELIVERY.
GUEST OF HONOUR, DISTINGUISHED GUESTS, LADIES AND GENTLEMEN,
ALONGSIDE THE LAUNCH OF eNAPSA, WE ARE ALSO LAUNCHING FIVE NEW INITIATIVES THAT ARE MEANT TO COMPLEMENT THE eNAPSA PLATFORM. THESE INCLUDE:
MY NAPSA MOBLIE APPLICATION ACCESSABLE ON ALL SMART PHONES
USSD CODE *677# ACCESSABLE ON ALL MOBILE PHONES WITH OR WITHOUT INTERNET
SMS ALERT TO MEMBERS AND EMPLOYERS,
THE CALL CENTRE EQUIPED WITH VAROUS COMMUNICATION TOOLS SUCH AS ONLINE CHART , TOLL FREE LINE (677) AND EMAIL
EXTENSION OF COVERAGE TO THE INFROMAL SECTOR INCLUDING DOMESTIC WORKERS AND TAXI AND BUS DRIVERS
THE AUTHORITY WILL ALSO UNVEIL A FLEET OF BRANDED VEHECLES THAT WILL ACT AS MESSAGE CARRIERS FOR OUR PRODUCTS TO THE PUBLIC.
 GUEST OF HONOUR
THE eNAPSA  PLATFORM HAS BEEN IMPLEMENTED TO IMPROVE MANAGEMENT OF CONTRIBUTIONS AND BENEFITS INFORMATION AND TO PROMOTE EFFECTIVE CUSTOMER SERVICES IN LINE WITH OUR  CUSTOMER SERVICE CHARTER.
THE eNAPSA IS AN INTEGRATED WEB-BASED PORTAL THROUGH WHICH EMPLOYERS AND EMPLOYEES ARE ABLE TO TRANSACT WITH THE NATIONAL PENSION SCHEME AUTHORITY ONLINE VIA THE AUTHORITY'S WEBSITE.
THROUGH THIS SYSTEM, EMPLOYERS CAN REGISTER THEIR EMPLOYEES, FILE MONTHLY RETURNS AND MAKE PAYMENT FOR STATUTORY NAPSA CONTRIBUTIONS. EMPLOYEES ON THE OTHER HAND CAN USE eNAPSA TO CHECK THEIR DETAILS AS WELL AS KEEP TRACK OF THEIR CONTRIBUTIONS AND BENEFITS INFORMATION. THE SYSTEM CAN BE ACCESSED FROM ANY WEB-ENABLED GADGET, INCLUDING LAPTOPS, COMPUTERS, TABLETS OR SMART PHONES.
GUEST OF HONOUR, DISTINGUISHED GUESTS, LADIES AND GENTLEMEN,
EFFECTIVE AND EFFICIENT SERVICE DELIVERY IS NON-NEGOTIABLE IN THIS CHANGING COMPETITIVE ENVIRONMENT. THE SERVICES WE ARE LAUNCHING TODAY WILL ENHANCE OUR SERVICE DELIVERY WHICH WILL RESULT IN REDUCED LEAD TIME FOR THE PAYMENTS OF BENEFITS TO MEMBERS TO NO MORE THAN 14 DAYS AS PROMISED IN OUR SERVICE CHARTER.
THIS WILL ALSO IMPROVE COMPLIANCE BY EMPLOYERS AND THE QUALITY OF DATA THAT THE AUTHORITY WILL HOST FOR ITS MEMBERS. THIS, WILL ULTIMATELY, RESULT IN OUR OPERATIONAL EFFICIENCY AND REDUCED COST OF DOING BUSINESS FOR OUR MEMBERS AND EMPLOYERS AS THEY CAN NOW ACCESS OUR SERVICES FROM THE COMFORT OF THEIR OFFICES.
GUEST OF HONOUR, DISTINGUISHED GUESTS, LADIES AND GENTLEMEN,
THE IMPLEMENTATION OF eNAPSA WILL EQUALLY ENHANCE OUR COLLABORATION WITH OUR STAKEHOLDERS AS WE SEEK TO INTEGRATE SOME OF OUR ACTIVITIES VIA THIS PLATFORM. WE ARE WORKING ON MODALITIES TO INTEGRATE WITH THE PATENTS AND COMPANIES REGISTRATION AGENCY, ZAMBIA REVENUE AUTHORITY AND THE ROAD TRANSPORT AND SAFETY AGENCY.
I AM ALSO GLAD TO MENTION THAT WE HAVE SINCE COMPLETED THE INTEGRATION OF THE eNAPSA WITH STANBIC BANK PLC AND THE ZAMBIA NATIONAL COMMERCIAL BANK.
INTEGRATION WITH FIVE OTHER BANKS IS IN PROCESS AND WILL BE COMPLETED BY THE MONTHEND. THIS MEANS THAT MEMBERS CAN NOW COMPLETE THE PROCESS OF SUBMITTING THEIR MONTHLY RETURNS AND PAYING WORKERS CONTRIBUTIONS ONLINE WITHOUT VISITING OUR OFFICES ONCE.
GUEST OF HONOUR, DISTINGUISHED GUESTS, LADIES AND GENTLEMEN,
YOU MAY WISH TO KNOW THAT SINCE THE IMPLEMENTATION OF THE eNAPSA IN OCTOBER 2016, OVER 90 PER CENT OF EMPLOYERS THAT ARE REGISTERED WITH NAPSA HAVE MIGRATED AND ARE NOW USING eNAPSA TO SUBMIT THEIR RETURNS.
GUEST OF HONOUR THE OTHER INITIATIVES ALLUDED TO EARLIER, ARE EQUALLY VERY IMPORTANT. USING THESE PLATFORMS MEMBERS ARE ABLE TO KEEP TRACK OF THEIR CONTRIBUTIONS INFORMATION  AND  TO RAISE ALARM SHOULD THEY NOTICE ANY IRREGULARITIES. THE RESULTANT EFFECT IS THAT WE ARE ABLE TO KEEP CLEAN DATA ON WHICH WE BASE THE DETERMINATION OF PENSION BENEFITS. THIS THEREFORE MAKES THE PROCESSING OF BENEFITS MORE EFFICIENT, QUICKER AND LESS TEDIOUS.
GUEST OF HONOUR, DISTINGUISHED GUESTS, LADIES AND GENTLEMEN,
NAPSA HAS A MANDATE TO PROVIDE SOCIAL SECURITY COVERAGE TO ALL ELIGIBLE EMPLOYEES IN THIS COUNTRY INCLUDING THOSE IN THE INFORMAL SECTOR. HOWEVER, WE ACKNOWLEDGE THAT WE STILL HAVE SOME WORK TO DO TO ACHIEVE THIS GOAL ESPECIALLY IN THE INFORMAL SECTOR. IT IS FOR THIS REASON THAT WE HAVE COME UP WITH A PROJECT THAT WE ARE CALLING "EXTENSION OF COVERAGE TO THE INFORMAL SECTOR". THIS PROJECT IS TARGETED AT THE INFORMAL SECTOR AND INCLUDES EMPLOYERS OF DOMESTIC WORKERS, TAXI & BUS DRIVERS AND MARKETEERS AMONG OTHERS. AS YOU MAY BE AWARE, EMPLOYERS OF DOMESTIC WORKERS ARE NOW ABLE TO REGISTER THEIR EMPLOYEES AND WE ENCOURAGE THEM TO DO SO WITHOUT DELAY.
FURTHER, WORKING IN COLLABORATION WITH THE INTERNATIONAL LABOUR ORGANISATION, NAPSA IS DEVELOPING INITIATIVES THAT WOULD CATER FOR OTHER MEMBERS OF THE INFORMAL SECTOR. THIS IS OUR AREA OF FUTURE GROWTH AND FOCUS IN LINE WITH GOVERNMENT'S POSITION..
GUEST OF HONOUR, DISTINGUISHED GUESTS, LADIES AND GENTLEMEN,
THE eNAPSA AND OTHER SERVICES I HAVE HIGHLIGHTED WILL ALSO PLAY AN IMPORTANT ROLE IN OUR QUEST TO EXTEND SOCIAL SECURITY COVERAGE TO THE INFORMAL SECTOR AS THEY WILL MAKE REGISTRATION AND COMPLIANCE EASIER. .
WE ARE ALSO LOOKING TO THE GOVERNMENT AND OUR SUPERVISING MINISTRY, THE MINISTRY OF LABOUR AND SOCIAL SECURITY FOR THE COMPLETION OF THE PENSION REFORMS THAT ARE CURRENTLY UNDERWAY. THE REFORMS WILL ENABLE US TO IMPLEMENT SOME OF THE INITIATIVES SUCH AS DEVELOPING PRODUCTS THAT ARE TAILORED TO THE INFORMAL SECTOR, AMONG OTHERS.  .
GUEST OF HONOUR,
IN CONCLUSION, I WOULD LIKE TO REITERATE THAT WE AT NAPSA ARE HIGHLY COMMITTED TO PROVIDING EXCEPTIONAL CUSTOMER SERVICE AND THE LAUNCH OF eNAPSA AND OTHER SUPPORT SERVICES IS TESTIMONY TO THIS COMMITMENT. I THEREFORE WISH TO CALL UPON ALL OUR STAKEHOLDERS TO EMBRACE THESE INITIATIVES AND MAXIMISE THEIR USE AS THEY ARE AIMED AT MAKING DOING BUSINESS WITH US EASIER AND HASSLE-FREE.
I NOW LEAVE YOU WITH SOME VIDEO CLIPS ON eNAPSA AND OTHER SERVICES.
GOD BLESS YOU ALL.
I THANK YOU