October 25, 2022
Posted by:

Choolwe Nakalonga

Categories:

General, News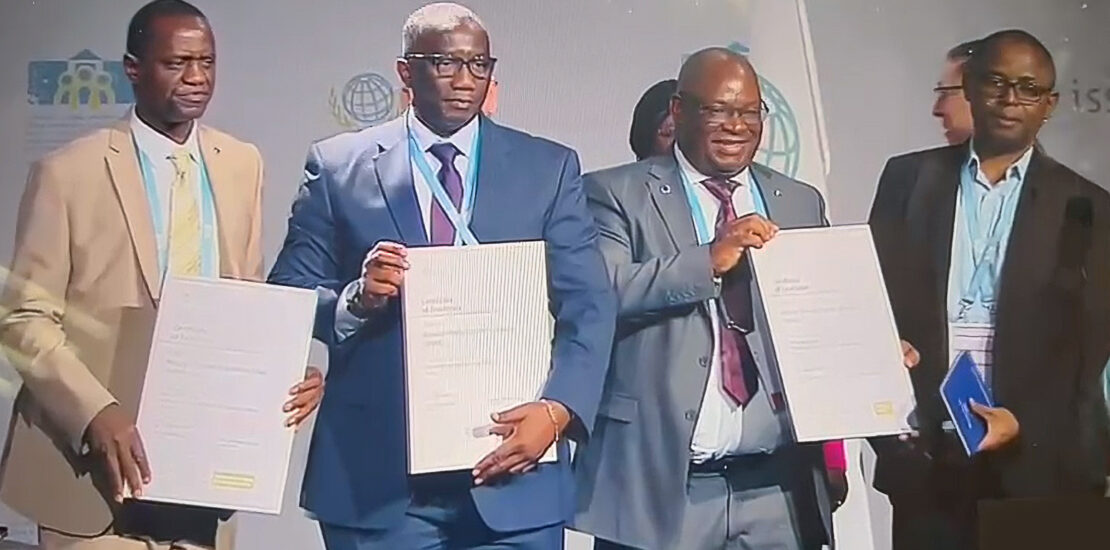 25.10.2022, Lusaka. The International Social Security Association (ISSA) has awarded the National Pension Scheme Authority (NAPSA) three Certificates of Excellence in Information Communication Technology, Service Quality and Extension of Coverage. The Certificates were presented to NAPSA Director General, Muyangwa Muyangwa during the General Assembly at the ongoing World Social Security Forum in Marrakech, Morocco today, 25th October 2022.

The certificates are part of the ISSA Recognition programme and are given to institutions that demonstrate successful application of ISSA Guidelines in Social Security Administration. ISSA Guidelines are international best practices in various aspects of social security administration.

Speaking after receiving the Certificates, Director General, Muyangwa Muyangwa said he was excited at the global recognition of the efforts the Authority was making in delivering social security to the people of Zambia. He reiterated that the award was a confirmation that the reforms were on the right track to improve service delivery to the members.

"I am excited at this recognition by the global social security community. The world has just affirmed that as an institution we are on track and are applying international best practices in our quest to deliver excellent service to our members. This is a very important achievement for us. But it is also a reminder that we need to keep improving because the global standards keep on changing. Therefore, we cannot afford to slip back, but must continue to innovate in all aspects of our business," he said.

Through this recognition, the Authority has demonstrated that it adheres to international best practices in its use of Information Communication Technology. The Authority has implemented various mobile and online solutions that allow members and the public to transact with the Authority from anywhere in an easy and convenient manner.

Regarding Service Quality, the Authority has implemented service standards, principles and guidelines that help to create value for members, beneficiaries and other stakeholders in their engagement with the Authority.

In the area of Extension of Coverage, the Authority has implemented administrative standards that are required for effective and efficient onboarding and servicing of members from the Informal Sector, taking into consideration their unique characteristics and difficult circumstances. NAPSA is implementing a robust extension of coverage programme to five priority sectors namely marketeers and traders, bus and taxi drivers, sawmillers, small scale farmers and domestic workers.

During today's General Assembly, Certificates of Excellence were awarded to ten social security institutions from nine countries in Africa, the Americas, Asia and the Pacific, as well as Europe.