January 20, 2023
Posted by:

Alice Mapulanga

Categories:

News, Speeches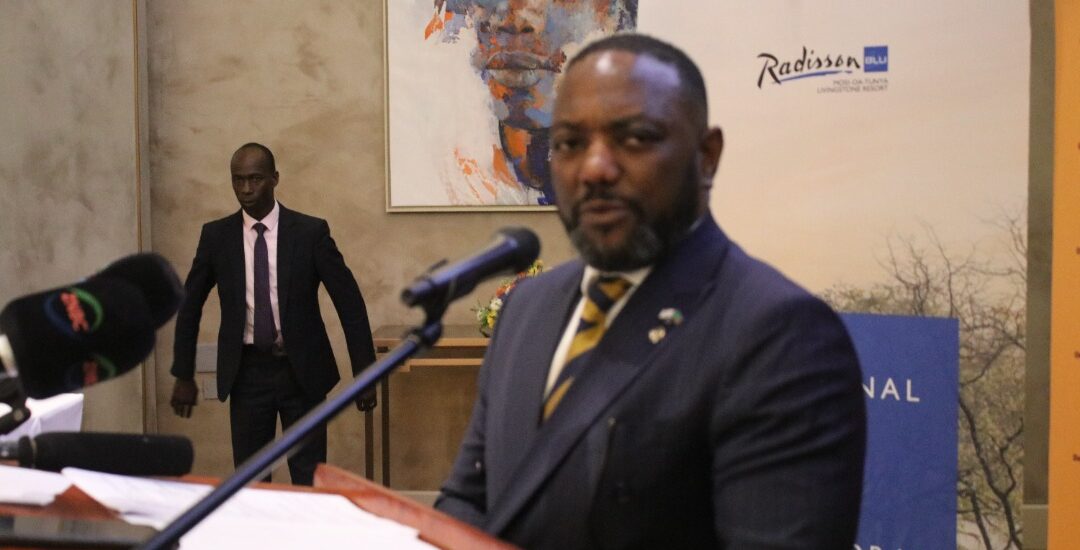 HON. BRENDA TAMBATAMBA MP, MINISTER OF LABOUR AND
SOCIAL SECURITY, AND GUEST HONOUR
HON. ELIJAH MUCHIMA, MP, MINISTER OF LANDS AND NATURAL RESOURCES
HON. CORNELIUS MWEETWA, MP, THE PROVINCIAL MINISTER – SOUTHERN PROVINCE
HIS ROYAL HIGHNESS SENIOR CHIEF MUKUNI
YOUR WORSHIP MS. CONSTANCE NALISHEBO MULEABAI THE
MAYOR OF THE CITY OF LIVINGSTONE
SENIOR GOVERNMENT OFFICIALS PRESENT
MR SHIPANGO MUTETO, CHAIRMAN OF NAPSA BOARD OF TRUSTEES
MR. TIM CORDON, RADISSON HOTEL GROUP REPRESENTATIVE,
MR. DAAN BRINK, CHAIRPERSON, ZAMBIA TOURISM AGENCY,
CAPTAINS OF THE INDUSTRY
MEMBERS OF THE PRESS
INVITED GUESTS
DISTINGUISHED LADIES AND GENTLEMEN
MY MINISTRY IS DELIGHTED TO BE PART OF THE LAUNCH OF THE
RADISSON BLU MOSI-OA-TUNYA LIVINGSTONE RESORT.
THE OFFICIAL LAUNCH OF THIS WORLD CLASS FACILITY COMES
AT AN OPPORTUNE TIME AS WE POSITION ZAMBIA AS A MEETINGS
INCENTIVE TRAVEL CONFERENCING AND EXHIBITION (MICE) AND
TOURISM DESTINATION OF CHOICE.
MAY I FROM THE OUTSET, APPLAUD THE BOARD OF TRUSTEES
AND MANAGEMENT OF NAPSA FOR CHOOSING TO SUPPORT
INVESTMENTS IN TOURISM. THIS DEVELOPMENT IS A
CULMINATION OF YEARS OF PLANNING, CONSTRUCTION, STAFF
RECRUITMENT AND TRAINING WHICH CANNOT BE TAKEN FOR
GRANTED. I ACKNOWLEDGE ALL THE HARD WORK THAT HAS
GONE INTO REACHING THIS IMPORTANT MILESTONE FOR THIS
NEW VENTURE. MAY I MAKE MENTION THAT THIS PROPERTY
BRINGS ENORMOUS VALUE TO THE CITY OF LIVINGSTONE, LOCAL
COMMUNITIES AND THE PROVINCE AT LARGE. THIS PROPERTY
GUEST HONOR, IS IN ITSELF A TOURISM ATTRACTION BECAUSE
OF ITS ARCHITECTURAL DESIGN AND LOCATION.
TOURISM AND THE HOSPITALITY ARE SIAMESE TWINS, AND AS
SUCH GROWTH OF EITHER DEPENDS ON THE OTHER. TO US IN
THE TOURISM SECTOR, THIS HIGH-END HIGH-CLASS FACILITY
ADDS VALUE TO PROMOTING AND POSITIONING LIVINGSTONE AS
AN ATTRACTION FOR BOTH BUSINESS AND LEISURE TOURISM.
DISTINGUISHED LADIES AND GENTLEMEN,
THIS COULD NOT HAVE COME AT A BETTER TIME THAN NOW
WHEN MY MINISTRY IS PROMOTING QUALITY STANDARDS IN THE
HOSPITALITY INDUSTRY THROUGH INSPECTIONS, LICENCING
AND GRADING OF TOURISM ENTERPRISES. WE ALL KNOW THAT
PEOPLE TRAVEL TO DESTINATIONS OF CHOICE TO PURSUE AND
ENJOY UNIQUE AND MEMORABLE FOOD AND DRINK
EXPERIENCES, WHILE STAYING IN QUALITY ACCOMMODATION
FACILITIES. MAY I TAKE THIS OPPORTUNITY TO HIGHLIGHT THAT,
TO SATISFY THE VISITOR EXPERIENCE REQUIRES ALL OF US TO
PLAY A ROLE IN KEEPING A TOURISM DESTINATION SUCH AS
LIVINGSTONE A FORCE TO RECKON WITH.
AS A MINISTER OF TOURISM AND MEMBER OF PARLIAMENT FOR
LIVINGSTONE CONSTITUENCY, I DO BELIEVE IN THE PEOPLE OF
LIVINGSTONE, PRIVATE SECTOR AND THE LOCAL AUTHORITY
THAT TOGETHER WE WILL MAKE LIVINGSTONE CITY A TOURIST
RESORT AND TOURIST CAPITAL THAT WILL PROVIDE BEST
PRACTICES FOR TOURISM DEVELOPMENT FOR OTHER REGIONS
IN THE COUNTRY.
DISTINGUISHED LADIES AND GENTLEMEN
YOU MAY NOTE THAT ON 29TH NOVEMBER, 2022 I UNVEILED THE
ZAMBIA TOURISM MARKETING PLAN FOR 2023 UNDER THE THEME
"REPOSITIONING FOR SUSTAINABLE GROWTH." THE TARGET IS
TO ATTRACT NOT LESS THAN 1.5 MILLION INTERNATIONAL
TOURIST ARRIVALS BY THE CLOSE OF 2023 AND TO ENHANCE
DOMESTIC TOURISM. BY SEPTEMBER, 2022 WE HAD ATTRACTED
JUST ABOUT 800,000 INTERNATIONAL TOURISTS. WE ALSO WANT
TO SEE OUR VISITORS SPEND NOT LESS THAN 4 DAYS AT EACH
VISIT.
DISTINGUISHED LADIES AND GENTLEMEN,
YOU MAY FURTHER NOTE THAT DELIBERATE STEPS HAVE BEEN
TAKEN BY GOVERNMENT TO RELAX VISA REQUIREMENTS TO
MAKE IT EASY FOR THOSE WHO WANT TO VISIT ZAMBIA. THIS IS
AN ADDITION TO MEASURES TAKEN TO REDUCE VISA FEES BY
50%. IT IS OUR RESOLVE TO STRENGTHEN RELATIONS GLOBALLY
AND SEND A STRONG MESSAGE THAT WE ARE OPEN FOR
BUSINESS.
THE 2023 BUDGET HAS ADDITIONAL MEASURES TO SUPPORT
INVESTMENT IN THE TOURISM SECTOR. THESE INCLUDE WAIVER
OF CUSTOMS DUTIES ON FIXTURES AND FITTINGS, SAFARI
MOTOR VEHICLES CAPITAL EQUIPMENT AND MACHINERY. TO
ENCOURAGE PURCHASE OF GAME ANIMAL BREEDING STOCK,
IMPORTS ARE NOW VAT EXEMPT. THE MINISTRY HAS MADE IT
EASY BY SHARING ELIGIBILITY CRITERIA WITH THE ZAMBIA
REVENUE AUTHORITY ON THESE WAIVERS AND SPECIAL
DISPENSATION.
LAST BUT NOT LEAST, MAY I TAKE THIS OPPORTUNITY TO
ANNOUNCE THAT THE MINISTRY HAS OUTLINED AREAS OPEN FOR
INVESTMENT IN NATIONAL PARKS AND HERITAGE SITES. THESE
ARE LISTED IN THE ZAMBIA TOURISM INVESTMENT GUIDE THAT
WAS LAUNCHED IN OCTOBER 2022. YOU CAN NOW SUBMIT YOUR
EXPRESSIONS OF INTEREST THROUGH THE OFFICE OF THE
PERMANENT SECRETARY ON LISTED SITES.
AS I CONCLUDE, GUEST HONOR, ALLOW ME TO THANK ALL THOSE
THAT PLAYED A ROLE IN SEEING THAT THIS PROJECT IS FINALLY
A TOURISM PRODUCT. TO THE EMPLOYEES I WISH TO
ENCOURAGE YOU TO REMAIN COMMITTED TO YOUR WORK AND
MAKE LIVINGSTONE A COMPETITIVE DESTINATION IN QUALITY
SERVICE.
DISTINGUISHED LADIES AND GENTLEMEN, THANK YOU FOR
YOUR ATTENTION.
GOD BLESS YOU, GOD BLESS MOTHER ZAMBIA