July 12, 2022
Posted by:

Simangolwa Muyunda

Category:

General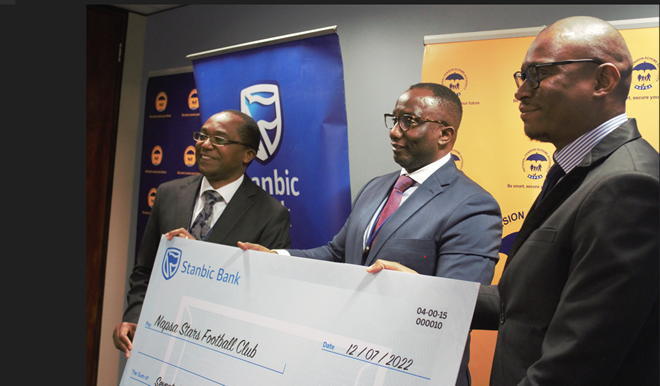 ' NAPSA Stars Football Club and Stanbic Bank Zambia have officially renewed their sponsorship agreement, signing for another season with a deal worth USD70,000.
The renewal means that Stanbic Bank will continue as co-shirt sponsors with the main sponsor National Pension Scheme Authority (NAPSA) for the Club's 2022/2023 soccer season.
The development was announced today, July 12, 2022 at a Press briefing held at the NAPSA Head Office.
And speaking at the Press briefing, Stanbic Bank Zambia Limited Chief Executive Officer Mwindwa Siakalima commended NAPSA for its commitment to supporting sports development over the years, particularly the support given to NAPSA Stars FC.
"As Stanbic Bank, our Business strategy under its sustainability pillar and corporate social responsibility fully supports the promotion of sports as part of the country's developmental goals," Mr. Siakalima said.
Mr. Siakalima also stated that the Bank was excited to renew the sponsorship with NAPSA Stars FC, and committed to supporting Club in the coming season.
The Stanbic Bank boss also wished the team led by Coach Perry Mutapa the best of luck in the coming season which is scheduled to start in the second week of August.
And NAPSA Director General Muyangwa Muyangwa thanked Stanbic Bank for recognizing NAPSA's effort by coming on board to support NAPSA Stars Football Club.
"As a former player myself with a lot of passion in football, I am very delighted with the support that you have continued to give the club. The partnership with NAPSA is more than just corporate social responsibility," Mr. Munyangwa said.
The NAPSA DG also added that such development go a long way in supplementing efforts of promoting football in the country, creating jobs and effectively dealing with vices affecting the youths.
Mr. Munyangwa has also called upon potential sponsors to come on board and associate their brands with NAPSA Stars FC.
Meanwhile NAPSA Stars Football Club Board Chairman John Chundu thanked both institutions for the support given to the club thus far.
"A big thank you to both NAPSA and Stanbic Bank Zambia Limited for supporting the team. It is our hope that this support grows and we promise to do our best to lift the brands of our sponsors," Mr. Chundu said.
The Stanbic Bank Zambia shirt partnership began in 2019, and the extension means that the Bank's branding will remain on the main team's shirt for the rest of the 2022/23 season.
NAPSA Stars FC will in the coming season, play in the MTN Super League after winning promotion from the Eden National Division One League where the team spent a season of participation.
In the season, the team also won Zambia's only Cup competition ABSA Cup, after beating MTN Super League champions Red Arrows FC. '