January 20, 2023
Posted by:

Alice Mapulanga

Categories:

News, Speeches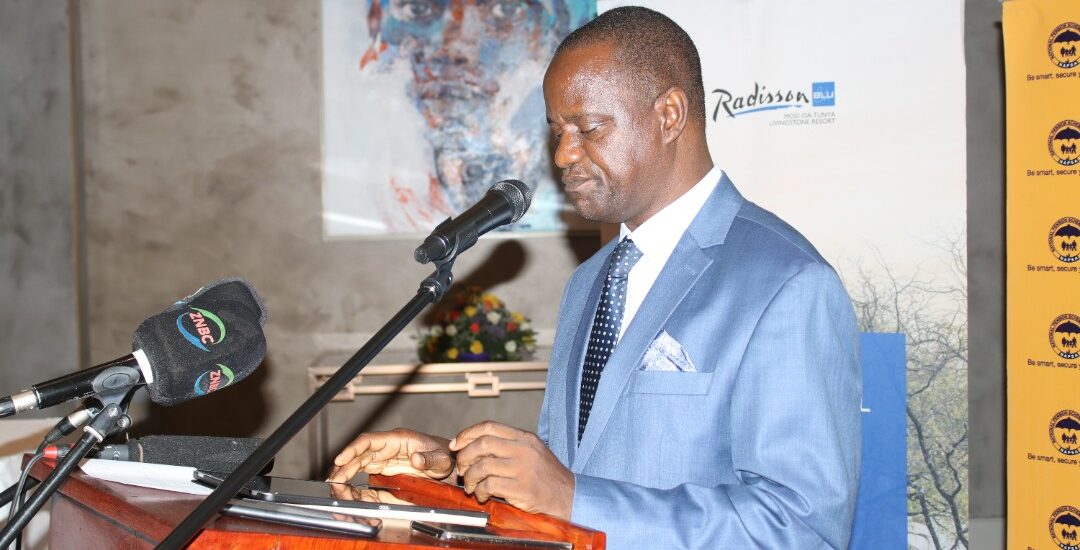 o THE GUEST OF HONOUR, MINISTER OF LABOUR AND SOCIAL
SECURITY, HONOURABLE BRENDA MWIKA TAMBATAMBA, MP
o YOUR ROYAL HIGHNESS SENIOR CHIEF MUKUNI AND OTHER ROYAL
HIGHNESSES PRESENT
o MINISTER OF TOURISM, HONOURABLE RODNEY SIKUMBA, MP
o MINISTER OF HOME AFFAIRS, HONOURABLE JACK MWIIMBU, MP
o MINISTER OF LANDS AND NATURAL RESOURCES, HONOURABLE ELIJAH MUCHIMA, MP
o THE PROVINCIAL MINISTER SOUTHERN PROVINCE, HONOURABLE
CORNELIUS MWEETWA, MP
o THE DISTRICT COMMISSIONER FOR LIVINGSTONE, MS EUNICE NAWA
o HER WORSHIP THE MAYOR OF THE CITY OF LIVINGSTONE, MS
CONSTANCE MULEABAI
o THE CHAIRPERSONS OF THE VARIOUS COMMITTEES OF THE NAPSA
BOARD OF TRUSTEES PRESENT
o NAPSA DIRECTOR GENERAL, MR. MUYANGWA MUYANGWA
o CHAIRPERSON OF THE NAPSA HOSPITALITY INVESTMENT LIMITED
o CHIEF EXECUTIVES OFFICERS AND OTHER SENIOR CAPTAINS OF
INDUSTRY IN THE HOSPITALITY INDUSTRY PRESENT
o NAPSA MANAGEMENT AND STAFF PRESENT
o RADISSON HOTEL GROUP REPRESENTATIVES AND STAFF
o PROPERTY DEVELOPERS AND CONSULTANTS
o INVITED GUESTS
o MEMBERS OF THE PRESS
o LADIES AND GENTLEMEN
GOOD MORNING.
IT IS MY PLEASURE AND HONOUR TO WELCOME YOU ALL TO THIS SPECIAL
EVENT AS WE WITNESS THE OFFICIAL OPENING OF THE RADISSON BLU
MOSI-OA-TUNYA LIVINGSTONE RESORT HERE IN THE TOURIST CAPITAL OF
ZAMBIA, LIVINGSTONE.
I WOULD LIKE TO EXPRESS MY SINCERE GRATITUDE AND APPRECIATION, ON
BEHALF OF THE BOARD OF TRUSTEES OF THE NATIONAL PENSION SCHEME
AUTHORITY, MANAGEMENT AND INDEED ON MY OWN BEHALF, TO YOU,
HONOURABLE MINISTER OF LABOUR AND SOCIAL SECURITY, MS BRENDA
MWIKA TAMBATAMBA FOR TAKING TIME OFF YOUR BUSY SCHEDULE TO
COME AND OFFICIATE AT THIS EVENT.
FURTHERMORE, ALLOW ME TO EXPRESS SIMILAR GRATITUDE TO ALL THE
HON. MINISTERS PRESENT, YOUR ROYAL HIGHNESSES, THE DISTRICT
COMMISSIONER, HER WORSHIP THE MAYOR WHO HAVE COME TO JOIN US
THIS MORNING. WE ARE TRULY GRATEFUL FOR HONOURING US WITH YOUR
TIME AND PRESENCE.
HONOURABLE MINISTER, LADIES AND GENTLEMEN, THE AUTHORITY WAS
ESTABLISHED BY THE NATIONAL PENSION SCHEME (NPS) ACT NUMBER 40
OF 1996 TO PROVIDE INCOME SECURITY TO MEMBERS WHEN THEY REACH
RETIREMENT AGE OR BECOME INCAPACITATED OR TO THE SURVIVING
SPOUSE AND CHLDREN IN THE EVENT OF DEALTH OF A MEMBER.
PRESENTLY WE HAVE OVER 965,000 CONTRIBUTING MEMBERS BOTH FROM
THE FORMAL AND INFORMAL SECTORS, OF WHICH 95 PERCENT IS FROM THE
FORMAL SECTOR. AS AN AUTHORITY, WE HAVE RESOLVED TO SCALE UP ON
THE INCLUSION OF THOSE IN THE INFORMAL SECTOR WHO ARE CURRENTLY
EXCLUSION IN THE BROADER SPECTRUM OF FINANCIAL INCLUSION.
THERE ARE CURRENTLY 22,580 PENSIONERS ON OUR PENSION PAYROLL AS
AT 31ST DECEMBER 2022. CUMULATIVELY WE PAID OUT A TOTAL OF K1
BILLION COMPRISING K596.3 MILLION IN MONTHLY PENSIONS AND K499.9
MILLION IN LUMPSUM CLAIMS.
HONOURABLE MINISTER, DISTINGUISHED INVITED GUESTS, FOLLOWING THE
ENACTMENT OF THE NPS (AMENDMENT) ACT NUMBER 21 OF 2022 ON 6TH
DECEMBER 2022 BY THE PRESIDENT OF THE REPUBLIC OF ZAMBIA, MR
HAKAINDE HICHILEMA, TO ALLOW FOR EARLY ACCESS TO ZNPF BENEFITS,
WE HAVE SO FAR PAID OUT A TOTAL OF K282 MILLION AS AT 19TH JANUARY2023.
OF THIS AMOUNT, A TOTAL OF K198 MILLION IS THE AMOUNT PAID TO
THOSE BELOW 50 YEARS OLD, GIVING THEM EARLY ACCESS TO THEIR
BENEFITS. IT IS WORTH NOTING THAT THIS MONEY HAS GONE INTO THE
ECONOMY CREATING THE MUCH-NEEDED LIQUIDITY AND CAPITAL FOR
MEMBERS TO INVEST IN THEIR DESIRED BUSINESS VENTURES.
IN ORDER FOR THE AUTHORITY TO MEET ITS MANDATE, WE HAVE A
RESPONSIBILITY TO COLLECT CONTRIBUTIONS FROM ALL ELIGIBLE
MEMBERS AND EMPLOYERS AND TO ENSURE THAT FUNDS THAT ARE NOT
IMMEDIATELY REQUIRED TO SETTLE PENSION OBLIGATIONS ARE INVESTED
PRUDENTLY IN VARIOUS ASSET CLASSES IN LINE WITH THE INVESTMENTS
GUIDELINES (SI NO. 19 OF 2017). THESE INVESTMENTS GUIDELINES PROVIDE
A WELL-DIVERSIFIED ASSET PORTFOLIO COMPRISING SEVERAL ASSET
CLASSES SUCH AS GRZ SECURITIES COMPRISING OF GOVERNMENT BONDS
AND TREASURY BILLS, FIXED-TERM DEPOSITS, REAL ESTATE,
INFRASTRUCTURE, BOTH LISTED & NON-LISTED EQUITIES, GREENFIELD
INVESTMENTS (KAFUE GORGE LOWER HYDRO POWER PROJECT),
ECONOMICALLY AND SOCIALLY TARGETED ASSETS AND SPECIAL PURPOSE
VEHICLES (SUBSIDIARIES) WHERE THIS HOTEL PROJECT IS CLASSIFIED,
AMONG OTHERS.
THE ASSET BASE OF THE AUTHORITY AS OF 31ST DECEMBER 2022 STOOD AT
JUST OVER ZMW65 BILLION OF WHICH 68% IS IN LIQUID ASSETS
COMPRISING:
(i) GOVERNMENT BONDS – 36%
(ii) TREASURY BILLS – 9%
(iii) FIXED TERMS DEPOSITS – 23%
THE BALANCE OF 32% IS MADE UP OF INVESTMENTS IN REAL ESTATE
(11.58%), LISTED & NON- LISTED EQUITIES (7.09%), INFRASTRUCTURE (7%),
GREEN FIELDS (5.76%) AND OTHERS (0.57%)
ONE OF THE INVESTMENTS PRINCIPLES AS PRESCRIBED IN SECTION 3 OF
THE INVESTMENTS GUIDELINES IS DELIVERING TARGETED INVESTMENT
RETURNS TO MAXIMISE VALUE FOR THE MEMBERS SO THAT THE SCHEME IS
ABLE TO PAY ALL TYPES OF BENEFITS TO THE MEMBERS, THEIR
BENEFICIARIES AND DEPENDANTS AS AND WHEN THEY FALL DUE. THIS A
TRUE DEMONSTRATION OF OUR I-CARE VALUES WHICH ARE INTEGRITY,
COLLABORATION, ACCOUNTABILITY, RESPECT, AND EXCELLENCE. THE
AUTHORITY WILL ENSURE THAT THE MEMBERS OF THE SCHEME ARE
VALUED AND CARED FOR.
FURTHER, THE INVESTMENTS MUST CONTRIBUTE TO THE NATIONAL
ECONOMIC TRANSFORMATION THROUGH JOB CREATION AND ECONOMIC
VALUE ADDITION AGENDA, ESPECIALLY THAT WE ARE STILL A DEVELOPING
COUNTRY.
THIS RESORT YOU ARE OFFICIALLY OPENING TODAY, HONOURBALE
MINISTER, IS ONE OF NAPSA'S KEY INVESTMENTS IN THE HOSPITALITY
INDUSTRY COMING FOURTH IN LINE AFTER THE STAY EASY HOTEL AND
HILTON GARDEN INN IN LUSAKA AND THE GARDEN COURT HOTEL IN KITWE.
IT IS A 200 KEYS HOTEL ESTIMATED AT USD98 MILLION. THE HOTEL HAS A
STATE-OF-THE-ART CONFERENCE CENTRE THAT CAN SIT UP TO 500
DELEGATES, A WHOLE DAY FINE DINING RESTAURANT, A GYM, A SPA,
TENNIS COURT AND CHILDREN'S PLAY AREA AMONG OTHER FACILITIES.
THE RADISSON BLU TOGETHER WITH THE OTHER HOTELS HAVE
ALTOGETHER CREATED OVER 500 DIRECTJOBS. AT FULL HOTEL OPERATING
CAPACITY, THIS NUMBER IS EXPECTED TO INCREASE OR EVEN DOUBLE. IN
ADDITION TO THESE DIRECT JOBS, WE ARE AWARE OF THE MANY INDIRECT
JOBS AND OTHER ECONOMIC BENEFITS THAT ARE BEING CREATED
THROUGH THE MULTIPLE VALUE CHAIN AMONG SUPPLIERS OF VARIOUS
GOODS AND SERVICES IN AREAS WHERE THE HOTELS OPERATE.
HONOURABLE MINISTER, DISTIGUISHED INVITED GUESTS, THE AUTHORITY
IS CHARGED WITH A HUGE RESPONSIBILITY OF DELIVERING ITS MANDATE
OF SECURING THE SOCIAL ECONOMIC WELLBEING OF THE PEOPLE OF ZAMBIA THROUGH THE PROVISION OF PENSIONS AT RETIREMENT AND THE
PAYMENT OF OTHER STIPULATED BENEFITS TO THE MEMBERS OF THE
SCHEME. TO THIS END, HONOURABLE MINISTER, ON BEHALF OF THE NEW
BOARD OF TRUSTEES, THE MANAGEMENT AND STAFF, I WOULD LIKE TO
ASSURE YOU AND THROUGH YOU, THE NATION THAT THIS BOARD TAKES ITS
FIDUCIARY DUTY OF MANAGING THE ASSETS AND INTERESTS OF THE
MEMBERS OF THE SCHEME WITH A GREAT SENSE OF RESPONSIBILITY,
PRUDENCE AND A HIGH DEGREE OF ACCOUNTABILITY.
WE WILL CONTINUE TO OFFER THE NECESSARY OVERSIGHT ON THIS VERY
IMPORTANT NATIONAL INSTITUTION, GUIDED BY THE PROVISIONS OF THE
NATIONAL PENSION SCHEME ACT NO. 40 OF 1996 AND APPLICABLE LAWS OF
THE REPUBLIC OF ZAMBIA. THE AUTHORITY, TOGETHER WITH MANAGEMENT
WILL CONTINUE TO ENSURE THAT ALL INVESTMENTS AND ACTIVITIES THAT
THE AUTHORITY UNDERTAKES ARE ALIGNED WITH THE GUIDELINES AND TO
THE VISION OF THE NEW DAWN GOVERNMENT.
WE ARE VERY GRATEFUL TO THE NEW DAWN GOVERNMENT UNDER THE
LEADERSHIP THE REPUBLICAN PRESIDENT, MR HAKAINDE HICHILEMA FOR
THE UNWAVERING SUPPORT AND FOR PROVIDING AN ENABLING
ENVIRONMENT FOR US TO CARRY OUT OUR WORK. WE WILL ENSURE THAT
WE SUPPORT THE GOVERNMENT IN DELIVERING ON THE VISION OF A
RESPONSIVE AND IMPACTFUL SOCIAL SECURITY SYSTEM THAT LOOKS AT
BOTH THE LONG AND SHORT-TERM NEEDS OF OUR MEMBERS BY
UNDERTAKING NECESSARY REFORMS, INCLUDING THE EARLY ACCESS TO
NAPSA CONTRIBUTIONS WHICH WORK IS ALREADY WELL UNDERWAY.
AS I CONCLUDE, HONOURABLE MINISTER & GUEST OF HONOUR,
DISTIGUISHED INVITED GUESTS, ON BEHALF OF THE BOARD OF TRUSTEES
AND MANAGEMENT OF NAPSA, I WOULD LIKE TO ASSURE ALL MEMBERS
CONTRIBUTING TO THE SCHEME, INCLUDING THOSE OF OUR OVER 22,000
PENSIONERS, THAT THEIR INTERESTS WILL ALWAYS BE AT THE CENTRE OF
EVERY DECISION WE MAKE. WE WILL ALWAYS ENSURE THAT WE INVEST AND
GROW THE FUND IN A TRANSPARENT AND PRUDENT MANNER WHICH WILL
RESULT IN A FINANCIALLY SUSTAINABLE SCHEME FOR THE BENEFIT OF THE
ALL MEMBERS, THEIR BENEFICIARIES, DEPENDANTS AND THE NATION AT
LARGE.
I WOULD LIKE TO THANK MUKUBA PROPERTY DEVELOPMENT LIMITED
REPRESENTED BY MR RENNIE MUSHINGE, THE MAIN CONTRACTORS
STEFANUTTI STOCKS REPRESENTED BY MR WATSON NGAMBI AND WANTZ
KLOPPER, PROJECT MANAGER LORENZO VIMERCATI AND QUANTITY
SURVEYORS CHARL VAN WYK AND GEORGE NDUNGU, THE DEPARTMENT OF
NATIONAL PARKS AND WILDLIFE THROUGH THE DIRECTOR GENERAL AND
ALL THOSE WHO WORKED TO MAKE THIS PROJECT A SUCCESS.
A SPECIAL THANK YOU TO THE LIVINGSTONE CITY COUNCIL FOR
FACILITATING SUCCESSFUL COMMENCEMENT OF OPERATIONS OF THE
RESORT.
HONOURABLE MINISTER, IT IS NOW MY GREAT HONOUR & PRIVILEDGE TO
PRESENT TO YOU A BRIEF ABOUT THE HOTEL IN THE FOLLOWING SHORT
VIDEO DOCUMENTARY.
I THANK YOU AND GOD RICHLY BLESS YOU ALL.