August 17, 2018
Posted by:

Simangolwa Muyunda

Categories:

News, Public Notices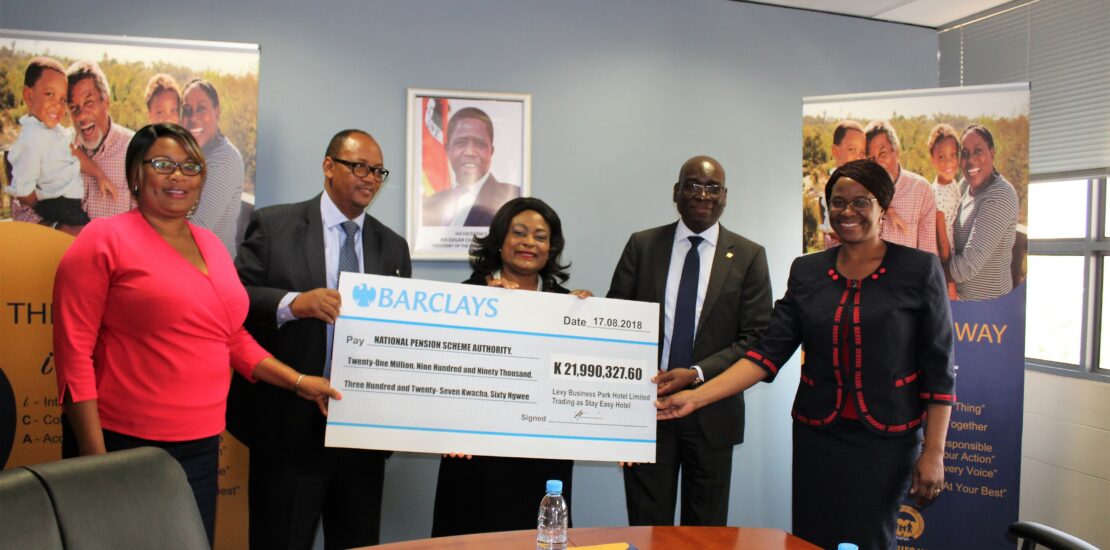 NAPSA has continued to register positive gains from its diversified investment portfolio as evidenced by the returns the Authority has continued to receive from its investments. Today the Authority received a dividend of K21, 990,327 from its wholly owned Levy Business Park Hotel, trading as Stay Easy Hotel in Lusaka. This is merely three weeks since it received another dividend worth over K20 Million from the LuSE-listed Zambia Consolidated Copper Mines Investment Holdings (ZCCM-IH).
Speaking when he received the dividend cheque on behalf of the Shareholders – NAPSA.  Mr. Yollard Kachinda, Director General – NAPSA  attributed the positive growth of the investment portfolio to NAPSA's prudent management of the workers' contributions in line with the investment guidelines. .
"What we are witnessing today is testament that the authority's investments are yielding positive results and bringing the required returns in line with the investment policy and strategic plan,"
"We remain optimistic about the outlook of our investments in the hospitality industry and Stay Easy Hotel is one such great success story in our quest to grow the pension fund for the benefit of our members," said Mr. Kachinda.
The Director General has assured all employees contributing to the scheme that the Authority will continue to protect the welfare of the citizens through prudent management of workers' contributions by ensuring that the choice of investments will be that which brings meaningful benefits to the owners of the money – the workers.
"I wish to assure our members that we will plough back this money we are receiving today in other high yielding assets and best performing fixed income securities in line with our fiduciary role in pension administration. We will continue to carefully select our investments to maintain a financially sustainable scheme for the workers of this country who are the major stakeholders," he said.
And Acting Chairperson of the Stay Easy Board, Mr. Felix Chaila, who presented the cheque to NAPSA, applauded NAPSA for the successful investment model that the Authority had implemented. He reiterated that Stay Easy Hotel was a great success story of a home-grown investment.
He commended NAPSA's significant role in growing the economy in general and tourism in particular.
Mr. Chaila has since pledged that the Board  will continue to steer the business with more impetus to promote Zambia as a tourist destination.